Motiv8's relationship with Taylor Wimpey stretches back several years with our involvement in their Graduate Programme.
This time, we were asked to develop and run a Development and Assessment Centre designed to help identify key talent with high potential and develop a greater awareness of their leadership qualities in order to map their careers accordingly. Additionally, we had to help create a bespoke development plan for each individual.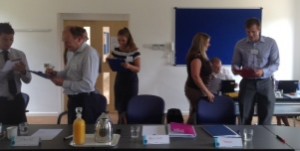 15 people were identified initially as potential high achievers and Motiv8's team led by Emma Prunier worked in partnership with Taylor Wimpey HR to create the centre which resulted in:
3 days worth of training and activities delivered by the Motiv8 team
All activities observed by trained observers
Group activities including Organisational and Financially focused tasks
Individual activities where participants assumed the role of a managing director in a series of simulations and real-life work and organisational challenges
Individual activities included running a live meeting with the Chief Executive of Taylor Wimpey, Peter Redfern.
This was undoubtedly one of the most challenging, but ultimately satisfying programmes to date for Motiv8.
Hard work but a very successful outcome for Taylor Wimpey and their high achievers!