For one of the most important vehicle launches of 2013, Citroën once again called on the services of the Motiv8 team to educate and enthuse a wide audience of people including:
Citroën executives including the MD
Citroën head office and field staff
Dealer managers and sales people
Customer helpline staff
Led by Motiv8 Project Manager, James Morton, the ten strong Motiv8 team developed the training content in partnership with  the Citroën Academy. We delivered all aspects of the event including staging and production, trainers, drivers and logistics staff plus competitor vehicles. We even went out and filmed real life buyers of this type of vehicle to find out what was important to them.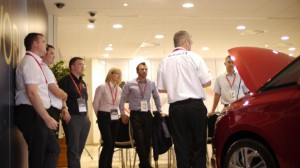 With over 1200 people trained through July and in dealer training for the Grand (7 seater version) in November, the event ensured that everyone involved has the knowledge and skills necessary to help sell this fantastic car. More launches to come in 2014. Watch this space!