As one of the most critically acclaimed new cars of 2012 the DS5 needed a proper launch and Motiv8 didn't disappoint. Working hand in hand with the in house Citroen Academy, our 25 strong Motiv8 team transformed an empty workshop building into a live TV studio complete with set, lighting, cameras and tiered seating for a daily audience of 128 spectators.
Following a warm up routine from ITV4's Simon Hill, an opening chat show compered by Motiv8's Steve Lang explored the details of the car with guests Steve Froud and Neil Cameron from the Academy and BTCCdrivers (and Motiv8's very own drive specialists) Paul O'Neill and Tom Onslow-Cole.
This was the start of a whirlwind day for our audience involving a range of training and driving activities all filmed by Kev Furber and the Motiv8 crew aided by our drivers, trainers and Citroen technical training team.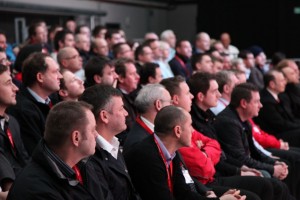 At the closing show the day's activities were condensed (at breakneck speed by Kev in his editing suite!) into a five minute video where the audience saw themselves and the DS5 in action.
All in all a day to remember for the participants with great feedback.
 Thanks Citroen and everyone in the Motiv8 team!!