With competitors such as the VW Golf, Vauxhall Astra and Ford Focus, the New Peugeot 308 has a real challenge on its hands to gain a foothold in this most competitive segment of the motor industry.
James Morton explaining the technology on the new 308
Following Motiv8's involvement in the drive and presentation elements of the recently completed customer and dealer manager launch events in Manchester, we were tasked to run the entire 308 sales team launch at the Peugeot Academy in Coventry.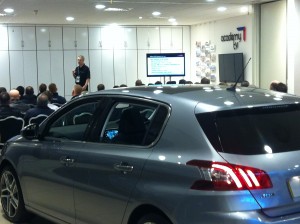 From reception, to driving to interactive workshops, the Motiv8 team led by James Morton catered for nearly 1000 staff over a 15 day period in what was our first major Peugeot event.
The feedback from the events was outstanding and led us to being asked to run additional days for internal staff and also a track day for internal staff on 10th January, 2014 at the Pro Drive Live facility in Warwickshire.
More to come with Peugeot in 2014 – watch this space!