Motiv8 has just finished the design, planning and delivery of visits to over 100  sites around the UK to showcase latest electric vehicle technology.
Motiv8's seven strong team worked hard to share knowledge with the manufacturer network's sales teams. The products were well received and will form an increasing part of the dealers business over the next few years.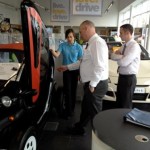 With more new zero emissions products to come from several of our clients it seems Motiv8's electric vehicle experience will be in ever more demand.